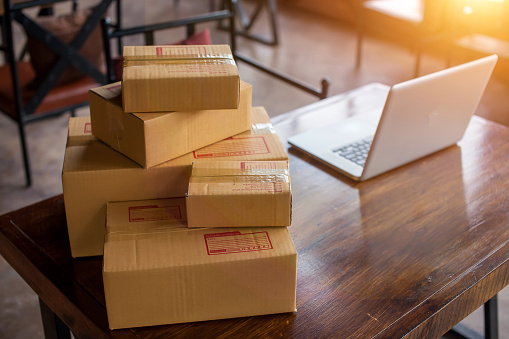 As more customers shop online, the cost of returns has increased alongside it.
Fashion giant Zara became the latest retailer to introduce charges for shoppers who return items bought online, with other stores predicted to follow suit.
Fast-fashion brand Boohoo also recently warned its revenue was unlikely to grow in the first half of the year amid shifting post-pandemic shopping habits, high return levels, and the cost of living squeeze — something that also happened to Asos last year.
Research suggests one in three fashion items bought online are now returned — double the rate of clothing bought in-store. The data also shows that every time a parcel is returned, it costs an average of $24.70 due to everything from shipping and storage to repackaging and discounting.
For smaller items that cost less than $25, it can actually lead to a loss for retailers to take the item back instead of simply issuing a refund. While during sales seasons, already slim margins on discounted products can be further wiped away once the costs of thousands of customers sending items back that don't fit or aren't quite right are factored in.
During the pandemic, consumers shopped increasingly online, often buying multiple products and sending those they didn't like back for free or at minimal cost to themselves, but with significant costs for the businesses.
Therefore, it's easy to understand why retailers may look at amending their business model for returns to improve their profit margins. However, is this a wise move for fast-fashion brands or big-ticket retailers where offering consumers a low-cost, accessible and convenient shopping experience is crucial to their brand and customer experience?
Far more helpful for retailers would be to understand why customers make returns in the first place, establishing which products drive the highest rate of negative feedback of returns and why.
But when you're dealing with thousands of returns — as most retailers are — understanding customer feedback at scale can be challenging, especially when many retailers offer a free text "reasons for return" form. Customers will typically give near-unique answers to explain why they're making a return, making achieving consistency of insight near impossible without the right technology.
To fully understand the reasons for returns and reduce the risk of returns negatively impacting a brand's success, retailers need a better solution for dealing with vast volumes of unstructured feedback data. And that doesn't mean abandoning unstructured feedback forms.
Unifying and analyzing unstructured data from businesses' online return forms and reviews, and using artificial intelligence (AI) to uncover the sentiment and reason behind each return at scale, can provide more intelligent, deeper insights. This is the right approach.
Bringing together your store experience data and data from online customer feedback, customer support, and conversations using a unified customer intelligence platform, allow all this information to be analyzed at scale.
This analysis helps retailers spot consistent themes that underlie the success (and potential failures) of their offerings. They can find out what it is about each product that leads to excess returns by drilling down to more specific criteria, such as segmenting returns issues by product type and monitoring the overall trend in returns over time.
Using a unified customer intelligence platform like so could establish that a retailer is consistently dispatching the wrong items or using insufficient packaging — or perhaps the description of a product doesn't fully match the item. This is all useful information for brands that's far more relevant than just knowing a product has been returned.
As we know, consumers today are less loyal than they were before the coronavirus pandemic. Businesses that can make more informed decisions based on what works and what doesn't can aim for lower return rates, happier customers and, potentially, better profit margins. Those that can't will, like Boohoo, soon find themselves in hot water.
Mikhail Dubov is the CEO and co-founder of Chattermill, a unified customer intelligence platform that enables CX teams to get the unfiltered truth about their customers so that they can transform their brands' customer experience.